Pocket CO Model 300 is the world's smallest and most affordable carbon monoxide detector, alarm and dosimeter. About the size of a key fob and weighing less than 1 oz., this wearable instrument is a highly sensitive, reliable and popular instrument. Range: 0 – 500ppm; first alarm at 50ppm, second at 125ppm, third at 400ppm. Also has an 8-hour TWA warning alarm at 25ppm. The instrument self-checks upon start and carries a 2 year instrument warranty.
Carbon Monoxide (CO) gas information
Pocket CO Model 300 has been discontinued and replaced with the Sparrow
Pocket CO Model 300 has been designed as a simple and effective tool to determine, measure, or record Carbon Monoxide (CO) levels in any environment. The instrument has been programmed based on guidelines for indoor and outdoor CO exposure from several organizations, including OSHA and ACGIH. Alarms are factory set at 50PPM, the ACGIH maximum recommended short-term exposure of 125PPM, and a death hazard of 400 PPM CO.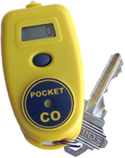 Easy to use, single button operation.
Very loud alarm, and flashing red light, to alert you of dangerous CO levels.
Digital display allows for monitoring of CO levels on and around the boat.
Weights less than 1 ounce. Take it anywhere!
Low levels of CO, typically less than 10 PPM, are not considered especially hazardous, but they do indicate a source of CO. Sustained levels above 25 PPM for 8 hours, and short-term exposure to more than 125 PPM CO, should be avoided. Seek clean air, ventilation, or any other means to eliminate exposure.
For volume pricing or distributor information contact us today!
Click HERE to learn more about Carbon Monoxide
Pocket CO Model 300 is a stand-alone unit, and because of its small size can be carried on a key ring, clipped to a worker's shirt pocket, or attached to the dashboard of a vehicle or piece of equipment. Pocket CO is designed specifically to be affordable and easy to use by health professionals and concerned homeowners. The device can be used in CO detection applications such as OSHA enforcement, fire service exposure, parking garages, warehouses, municipal buildings, hotel rooms, home furnace inspection and barbecue areas; and for mobile measurements on boats, cars, trucks, trains, airplanes, and anywhere else Carbon Monoxide exposure is possible.
Accessories:
Secure Clip: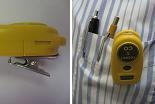 This strong clip attaches to your Pocket CO using the screw on the battery cover. It allows Pocket CO to be securely clipped to a shirt pocket, a belt buckle, a hard hat, or other convenient location.
This air-tight case makes a rugged storage container for your Pocket CO when not in use. Use this container to protect your Pocket CO from harmful vapors, like paint fumes, to ensure that it stays dry when not in use on your boat, or for transportation. Holds 1 to 4 Pocket COs. Black or yellow interior with clear cover.
Why buy a PocketCO?
Save a life
Low Cost+High Performance=Best Value
Save money on building/home/appliance inspections
Ease of use
Alarms when dangerous levels of CO detected
Easy-to-read display shows low CO levels in

 


1 ppm increments, up to 500ppm
Loud alarm, backlight display, vibrator, and bright red light
Simple, one button operation
Portable protection for recreation, job, or travel
Very light, fits on a keychain
Reports average exposure, total exposure, maximum exposure, and time of maximum
1 year instrument warranty & replaceable battery
Calibration

:
Calibration of Pocket CO is recommended at least yearly to ensure accurate readings, or whenever the accuracy of the readings is critical. Calibration can be done though KWJ's TechCheck service, or by using the Home Calibration Kit (Model 300 only). The Home Calibration Kit is safe and easy to use, and takes just minutes.

TechCheck Service:

 
TechCheck service is an easy way to perform the recommended yearly calibration. It is also the way to replace a dead battery on your CO sensor.  This service includes a full inspection of your instrument, calibration and testing, new battery, and new CO sensor element if needed. Instruments can be sent to KWJ Engineering for a TechCheck through the mail.
OSHA info sheet on Carbon Monoxide
NIOSH information on Carbon Monoxide
Questions and Answers:
Q. Is Pocket CO just a "toy" or a "gadget"?
Don't be misled by its small size and low cost! Pocket CO is a top of the line instrument. The electrochemical CO sensor inside is professional grade, and inside its tiny case is an advanced computer processor that ensures reliable measurements.
Q. How does Pocket CO compare to a common plug-in CO detector?
Plug-in CO detectors should be your first defense against CO at home, and we recommend having one or more of them in your house. They are available at most hardware and drug stores.
Pocket CO is every bit as effective and sensitive as these detectors, but has these added advantages:
Pocket CO is small, and can be taken anywhere you need protection.
Pocket CO responds and alarms quickly to elevated CO levels. Plug-in detectors must comply with UL standards, which state that they can alarm only after minutes to hours of continuous CO exposure (for example, 10-50 minutes at 150ppm). These standards are designed to avoid false alarms.
Pocket CO is ideal for monitoring low-levels of CO in your breathing space, perfect for individuals who may be exposed to CO in their line of work, or who are very sensitive to CO.
Pocket CO collects and reports dosimetry information over a period as long as 12 hours. This helps employers and employees monitor average, maximum, and total CO exposure throughout the day. It's also useful for those who think CO may be leaking into their home at a certain time of day, and want to know when.
Pocket CO's ability to detect low-levels of CO makes it easy to test using a source of CO, such as a blown-out paper match, or CO bump kit. Most plug-in detectors have a "Push to Test" button, but this only tests the audible alarm, and not the CO sensing element (which can expire after a few years).
Q. How often should I calibrate my Pocket CO?
The reading from a chemical sensor, such as the sensor in Pocket CO, can drift with environment and time. Thus for highest accuracy readings, one needs to calibrate Pocket CO periodically with a standard gas. KWJ Engineering, the manufacturer of Pocket CO, strongly recommends calibrating Pocket CO at least once per year, or whenever the accuracy of the reading is critical.
Intro Video on the Pocket CO:
More Information

| | |
| --- | --- |
| Manufacturer | KWJ Engineering |
| Call For Price | No |
| Gas | Carbon Monoxide (CO) |
| Resolution | 1 ppm |
| Response Time | < 90 seconds to 90% |
| Sensor type | Transducer Technology T-Series electrochemical. |
| Sampling Method | Diffusion |
| Alarms | Optional first alarm at or above 50 PPM. Second alarm at or above 125 PPM. Third alarm at or above 400 PPM. Hourly warning when CO above the 8-Hour 25 PPM ACGIH TWA. Temperature above 50oC / 122oF: "HOT" displayed Temperature below 0oC / 32oF: "COLD" disp |
| Operation Modes | "12-Hour" and "Always On" |
| Dosimetry | Calculates and records: Maximum exposure (ppm), time of max. exposure (minutes since turned on), total exposure in ppm-hours, 8-hour time weighted average (TWA). |
| Operational Temperature Range | 32-105 F, 0-40 C displayed; readings automatically compensated |
| Operational RH Range | 15-85% RH, non-condensing |
| Power Requirements | Battery check on startup and during operation. User replaceable CR2450 coin battery. |
| Tests | Self-Test on startup checks circuitry, alarms, battery, and operating temperature. Does not check sensor. |
| Size | 2.66 x.1.40 x 0.61 inches (67.6 x 35.6mm x15.5 mm) |
| Field Replaceable Battery | Yes |
| Warranty | 1 Year |
| Range | 5-500 PPM CO |