K-600 Portable Single Gas Detector
The K-600 is a compact portable gas detector with a wide range of gas selection and ranges.
Please contact us if you are not seeing the range you are needing! We can have a custom ranges made.
The K-600 Portable Gas Detector is great for a multitude of applications. From refinery workers, to firefighters, to maintenance engineers, the K-600 is perfect for detecting all kinds of gas leaks. The K-600 is capable of detecting a wide ragne of gases and its gas curve display allows for extremely easy reading of the air being detected. The user-friendly LCD display makes the K-600 easy to understand and operate. The K-600 is made with a built-in pump which adopts an advanced integrated circuit, enhancing the monitors sensitivity. The high-strength plastic and non-slip ruber make this K-600 water-proof and dust-proof. The K-600 comes with a cord and wall-port for charging the device.
Overview:
| | |
| --- | --- |
| Accuracy | </= 5% F.S. |
| Response Time | </= 30s |
| Operating Environment | -20C - 50C |
| Humidity | 95% RH (no dew) |
| Power Source | DC3.7V Li-on battery, 3200mAh |
| Working Time | >8 hours continuously (without alarming) |
| Charging Time | 6h-8h |
| Sensor Life | 2 years |
| Weight | Approx. 400g (with battery |
| Dimension | 130mm x 67 mm x 30 mm (LxWxH) |
Key Features:
-Gas pump sampling with high sensitivity
-32-bit built-in MCU for high reliability
-Easy operation
-Compact design for easy carrying
-High strength plastics and anti-slip rubber make this sensor high strength (water, dust and explosion-proof)
-Compatible with computers for storing and printing data records
-Gas curve display
Calibration:
Your Bosean sensor will need to be sent back to us to be calibrated. Please click here to see more information on our calibration services, as well as our calibration pricing. Contact Us Today to get your sensor calibrated. *Please Note: There may be additional costs depending on replacement sensor pricing.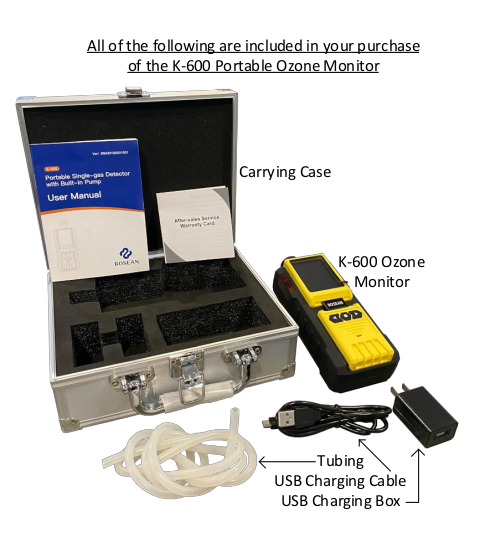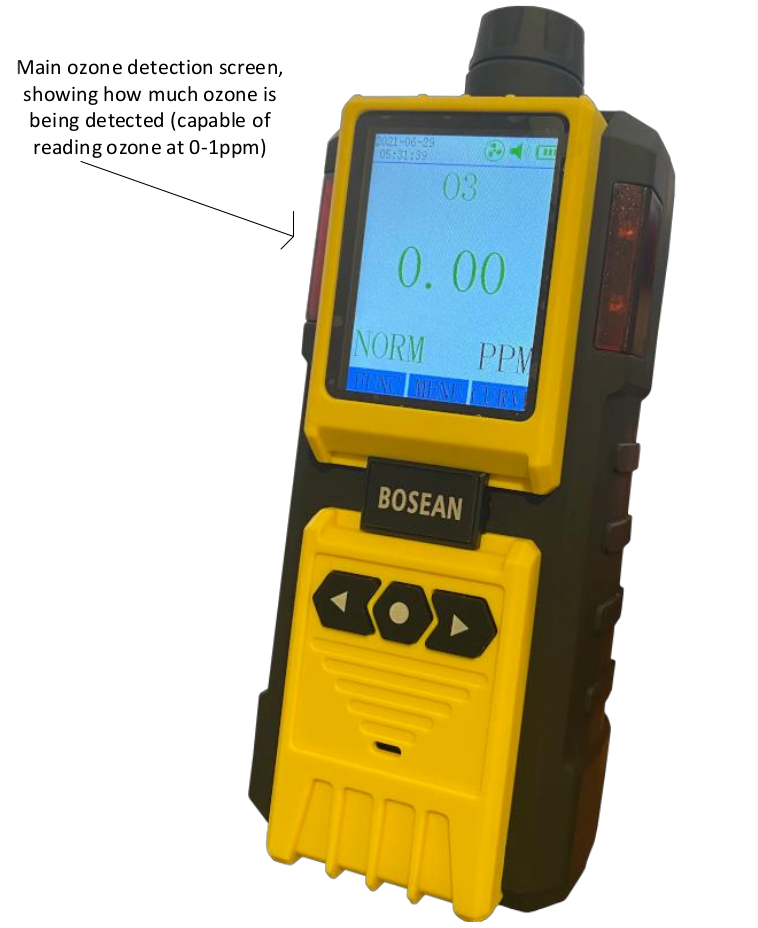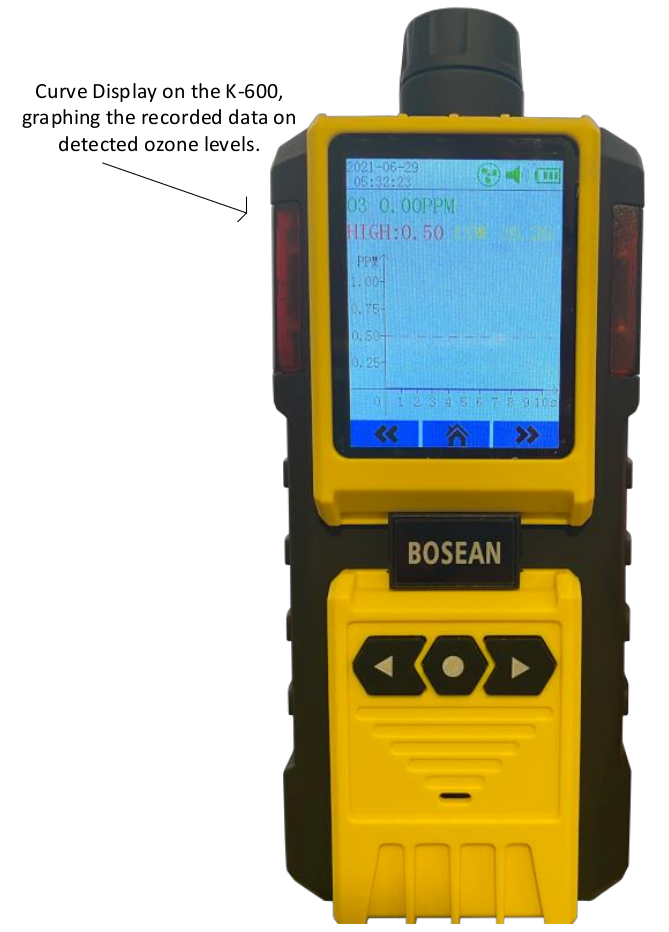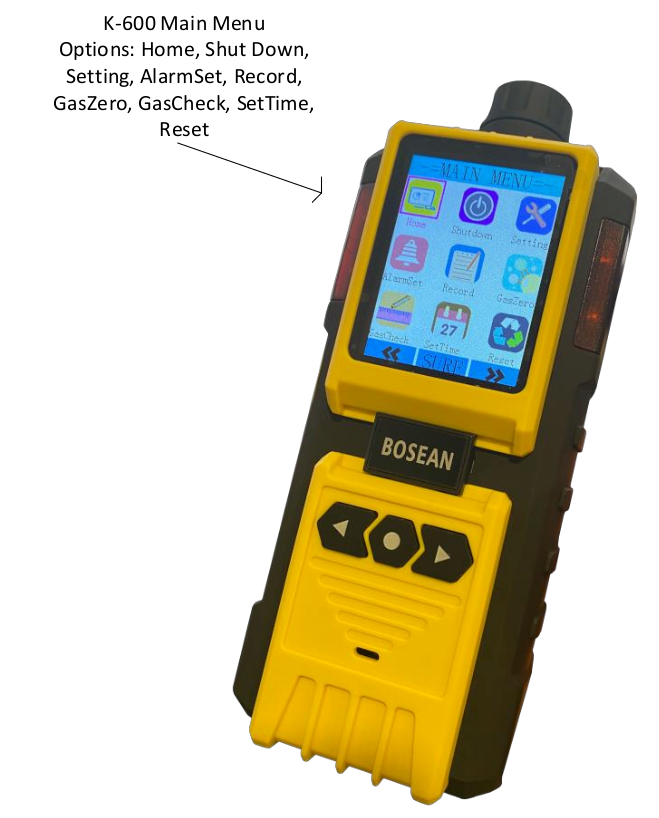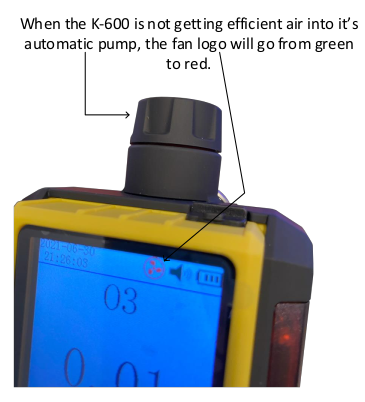 How to use the K-600:
Specifications:
| | | | | |
| --- | --- | --- | --- | --- |
| Model | Range | Resolution | Low Alarm | High Alarm |
| Ammonia (NH3) | 0-100 ppm | 0.1 ppm | 25 ppm | 50 ppm |
| Benzene (C6H6) | 0-100 ppm | 0.1 ppm | 20 ppm | 50 ppm |
| Carbon Dioxide (CO2) | 0-50,000 ppm | 1 ppm | 1000 ppm | 2000 ppm |
| Carbon Monoxide (CO) | 0-100 ppm | 1 ppm | 35 ppm | 200 ppm |
| Chlorine (Cl2) | 0-20 ppm | 0.1 ppm | 5 ppm | 10 ppm |
| Combustibles (EX) | 0-100% LEL | 1% LEL | 20% LEL | 50% LEL |
| Ethanol (C2H5OH) | 0-100% LEL | 1% LEL | 20% LEL | 50% LEL |
| Ethylene (C2H4) | 0-100% LEL, 0-20 ppm | 1% LEL, 1 ppm | 20% LEL, 5 ppm | 50% LEL, 10 ppm |
| Ethylene Oxide (C2H4O) | 0-100 ppm | 1 ppm | 10 ppm | 15 ppm |
| Formaldehyde (CH20) | 0-10 ppm | 1 ppm | 2 ppm | 5 ppm |
| Hydrogen (H2) | 0-1000 ppm | 1 ppm | 35 ppm | 200 ppm |
| Hydrogen Chloride (HCL) | 0-10 ppm | 0.1 ppm | 10 ppm | 20 ppm |
| Hydrogen Cyanide (HCN) | 0-10 ppm | 0.1 ppm | 10 ppm | 20 ppm |
| Hydrogen Sulfide (H2S) | 0-100 ppm | 1 ppm | 10 ppm | 20 ppm |
| Methane (CH4) | 0-100% LEL | 1% LEL | 20% LEL | 50% LEL |
| Nitric Oxide (NO) | 0-250 ppm | 1 ppm | 20 ppm | 50 ppm |
| Nitrogen Dioxide (NO2) | 0-20 ppm | 0.1 ppm | 5 ppm | 10 ppm |
| Oxygen (O2) | 0-30% vol | 0.1% vol | 19.5% vol | 23.5% vol |
| Ozone (O3) | 0-1 ppm, 0-100 ppm | 0.1 ppm | 5 ppm | 10 ppm |
| Phosphine (PH3) | 0-20 ppm | 0.1 ppm | 0.3 ppm | 5 ppm |
| Propane (C3H8) | 0-100% LEL | 1% LEL | 20% LEL | 50% LEL |
| Sulfur Dioxide (SO2) | 0-20 ppm | 0.1 ppm | 2 ppm | 5 ppm |
| VOC | 0-100 ppm | 0.1 ppm | 20 ppm | 50 ppm |
Downloadable Content:
More Information
Manufacturer
Bosean
Rental Period
Weekly
Quickbooks Stock Level
-1.000000
Call For Price
No
Gas
Ammonia (NH3), Benzene, Carbon Dioxide (CO2), Carbon Monoxide (CO), Chlorine (Cl2), Ethanol, Ethylene, Ethylene Oxide (ETO), Formaldehyde (CH2O), Hydrogen (H2), Hydrogen Chloride (HCl), Hydrogen Cyanide (HCN), Hydrogen Sulfide (H2S), Methane (CH4), Nitric Oxide (NO), Nitrogen Dioxide (NO2), Oxygen (O2), Ozone (O3), Phosphine (PH3), Propane, Sulfur Dioxide (SO2), VOC
4-20 mA Output
No
Field Replaceable Sensor
No
Min, Max, Avg
No
Voltage Output
None
Datalogging
No
Rechargeable
Yes
Field Replaceable Battery
Yes
Warranty
1 Year
Audible Alarm
Yes
Calibration
Annually
Sensor Life
2 years
Range
Gas Dependent
Unit Features

- Gas pump sampling with high sensitivity

- Easy operation

- Compact design for easy carrying

- High strength plastics and anti-slip rubber make this sensor high strength (water, dust and explosion-proof)

- Compatible with computers for storing and printing data records

Sensor Range

Gas Dependent

- Custom Gases and Ranges Avalible