SE-4 replacement VOC sensor module for the C-21 VOC Monitor. Pre-calibrated and ready for use upon delivery. Just plug into your sensor and dispose of the old sensor.
The SE-4 module is the pre-calibrated replacement sensor used for the C-21 VOC Monitor.
The sensor (SE-4) is a serviceable part on the C-21 and it's a good practice to replace it annually. When the C-21 is no longer responding to gases and vapors, it's likely due to sensor failure and must be replaced.
The C-21 is broadly sensitive to most VOCs, but its response is different for each one. To calibrate for a specific gas, a chemical laboratory is required. To view this procedure see Tech Note C-100.
SE-4 VOC Sensor Replacement:
Sensor replacement on C-21 is simply plug-n-play. Remove the old SE-4 sensor and replace with the new one.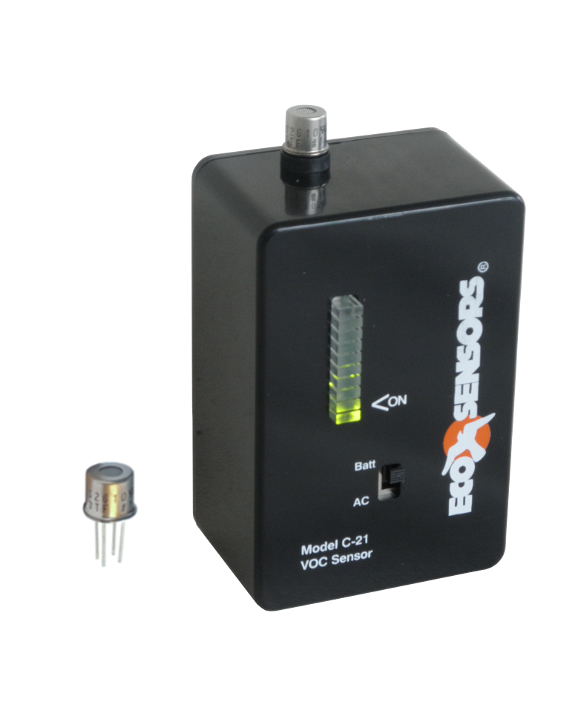 Links:
EcoSensors Calibration information
General Calibration Information
More Information

| | |
| --- | --- |
| Manufacturer | Eco Sensors |
| Call For Price | No |
| Gas | VOC |
| Resolution | Green = normal. Yellow = cauton. Red = danger. |
| Response Time | Within a few seconds of the VOC gas reaching the sensor |
| Sensor type | HMOS (Heated Metal Oxide Semiconductor) sensor |
| Sampling Method | Diffusion |
| Alarms | No |
| Operation Modes | Battery, and AC Power |
| Dosimetry | No |
| Operational Temperature Range | 32 - 105 deg F |
| Operational RH Range | 15 - 85% RH, non-condensing |
| Power Requirements | Self-contained NiCad or NiMH. Approximately 2 hour capacity. Recharged by AC adapter overnight. |
| Tests | No |
| Size | 3.25 x 1.375 x 2.375 inch |
| Field Replaceable Battery | No |
| Warranty | 1 Year |
| Range | Full scale = 50-100 ppm for most solvent based VOCs |