The Eco Sensors Model A-21ZX portable ozone sensor measure ozone from 0.02 - 10.0 ppm, with 0.01 ppm resolution. The A-21ZX is a great sensor for personnel safety and leak detection. The internal rechargeable battery, and rugged carry case make this a versatile and handy ozone monitor for industrial applications where safety and ozone leak detection are important.
**NO LONGER AVAILABLE**
The Eco Sensors Model A-21ZX portable ozone sensor provides a reliable and inexpensive way of checking generators, valves, piping and general environments for ozone leaks and for estimating ozone levels. It can be used as a permanent monitor indoors when concentrations average below .1 ppm. It may be used outdoors for ozone studies in moderate temperature conditions.
Features:
Small size and high sensitivity
Protective carry case with belt clip
Integrated rechargeable battery
Fast ozone response - excellent ozone leak detector
Ease of calibration and service
Very simple operation
Specifications:
Range: 0-10 ppm; sensitivity as low as .02 ppm
Display: digital readout in .01 ppm increments
Measurement principle: HMOS (heated metal oxide semiconductor) sensor
Size: 50 × 100 × 25 mm (2 × 4 × 1 in)
Weight: 170 grams (6 oz)
Power requirements: 12 VDC unregulated; AC adapters available worldwide
Battery: Rechargeable batteries last more than 8 hours
A-21ZX as a Leak Detector:
The A-21ZX makes a great leak detector. The top of the sensor protrudes from the case to allow the user to place the sensor as close as possible to a potential leak source. As the A-21ZX is a small sensor it fits in tight spaces and can be run along tubing easily.
The A-21ZX responds to ozone quickly and continuously. This allows the user to run the A-21ZX along pipes, fittings, valves, and other parts that may be leaking. This will allow you to find the area of the leak quickly, and potentially pin-point the exact location of leak due to the small sensor and ability to get it as close as possible to the source of the potential leak.
As the Ozone leak sensor has a range up to 10.0 ppm, there is very little danger of over ranging the sensor when working in ambient environments.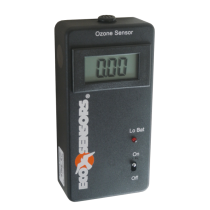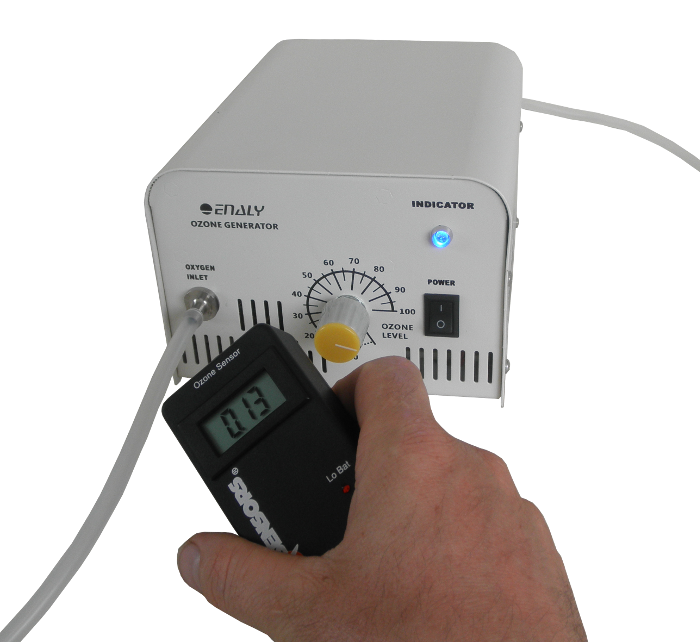 A-21ZX as a Safety Sensor:
With a range of ozone detection starting near 0 ppm, and a resolution of 0.01 ppm the A-21ZX is a great sensor to measure the OSHA levels of ozone. The A-21ZX will measure 0.08 ppm & 0.10 ppm TWA levels, along with the 0.30 ppm STEL levels of with the same sensor. A great advantage is the A-21ZX can also be used as a safety leak sensor, without concerns of over ranging the sensor.
As the A-21ZX responds to ozone quickly, moving throughout an area checking ozone leaks is possible. Many sensors have a response delay that would make ozone readings while moving throughout an area impossible. The A-21ZX allows for this with the quick response time and integrated rechargeable battery.
The A-21ZX comes with a handy carry case to protect the sensor from damage, and make carrying on the person simple. This will allow for a person to carry the sensor during the day using the handy belt clip.
More Information

| | |
| --- | --- |
| Manufacturer | Eco Sensors |
| Call For Price | No |
| Gas | Ozone (O3) |
| Resolution | 0.01 ppm |
| Response Time | 1 second |
| Sensor type | Heated Metal Oxide (HMOS) |
| Alarms | No |
| Operational Temperature Range | 35 - 100 deg F |
| Operational RH Range | 0 - 85% RH |
| Power Requirements | 12 VDC with supplied adapter |
| Size | Size: 50 × 100 × 25 mm (2 × 4 × 1 in) |
| Field Replaceable Battery | Yes |
| Warranty | 1 Year |
| Range | 0-10 ppm |
We found other products you might like!