OG-3 Ozone Source Bump Tester
OG-3 Ozone source bump tester is designed to check the calibration of your Eco-Sensors ozone sensor at 0.1 ppm ozone levels. The OG-3 is a great method to field check your ozone monitor without having to send the sensor in for calibration. The OG-3 can save you time and money over the long term, while ensuring you are compliant with your safety monitirng requirements.
The OG-3 Ozone Source is designed for bump calibration, verification, and approximate field calibration of Eco Sensors instruments.
It is available in a 0.1 ppm output level.
The OG-3 uses a small UV lamp to generate ozone gas at precise and consistant levels to check the response of your ozone sensor. The output of the OG-3 is adjusted in our laboratory by comparison with a NIST traceable standard.
The OG-3 is designed for operation with the following Ecosensors products:
-A-21ZX
-EZ-1X
-C-30ZX
-OEM-1
-OEM-2
Specifications:
-Ozone Source: UV lamp
-Output Ozone Concentration: .1ppm (standard)
-Accuracy: 20%
-Warm-up time: 30 minutes
-Calibration Time: 3 min
-Lifetime: 500+ hours
-Temperature range: 10 to 27 °C (50 to 80 °F)
-Size: 36 × 95 × 160 mm (1.41 × 3.75 × 6.30 in)
-Weight: 255 gr (9 oz)
-Power requirement: 12 VDC at 300 mA
-Warranty: One year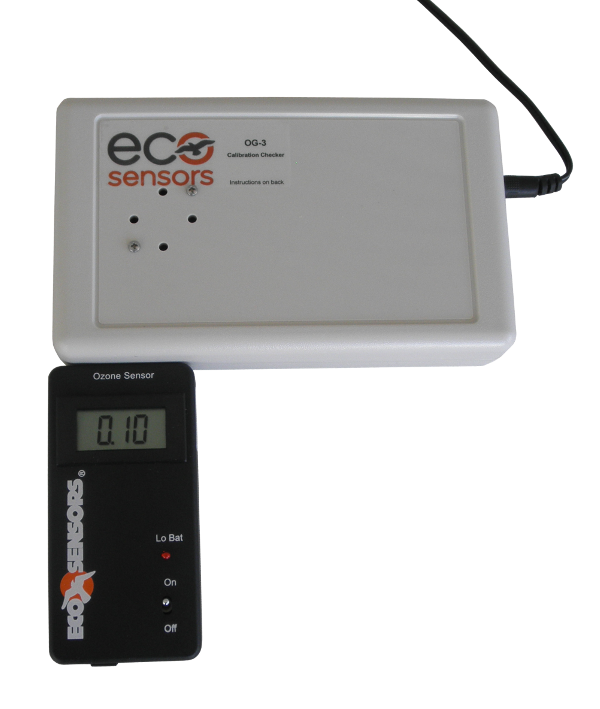 OG-3 Sensor Checker with the A-21ZX Ozone Monitor. All EcoSensors devices compatible with the OG-3 have a sensor that sticks out of the top of the enlosure slightly. This sensor will fit snugly in the port of the OG-3. A small fan with a UV-light will produce ozone gas and diffuser it toward the sensor to create the proper ozone level in the air and at the sensor for calibration purposes.
Manuals:
OG-3 Ozone Source User Instructions
OG-3 Calibration with the UV-100 Ozone Analyzer
Links:
EcoSensors Calibration information
General Calibration Information
More Information

| | |
| --- | --- |
| Manufacturer | Eco Sensors |
| Call For Price | No |
| Warranty | 1 Year |
| Monitor Type | A-21ZX, C-30ZX, EZ-1X |
We found other products you might like!