The B14 Gas Alarm Unit is a module that provide local alarm, display and signal re-transmission for a gas detection system.
The B14 Gas Alarm Module Receivers are designed to accept input from either two, there or four wire 4-20mA transmitters that can be located up to 10,000 feet away from the receiver. The Module provides local alarm, display, and single re-transmission functions for ANY gas detection system. This system is perfect when you need to monitor gas from a few different rooms but want to have a remote location that displays those gas levels. The B14 can be hooked up to a wide range of Gas Monitors (even if they do or don't have displays on the actual device themselves) and display the gas concentration on the B14 unit. It is compatible with 38 different gases.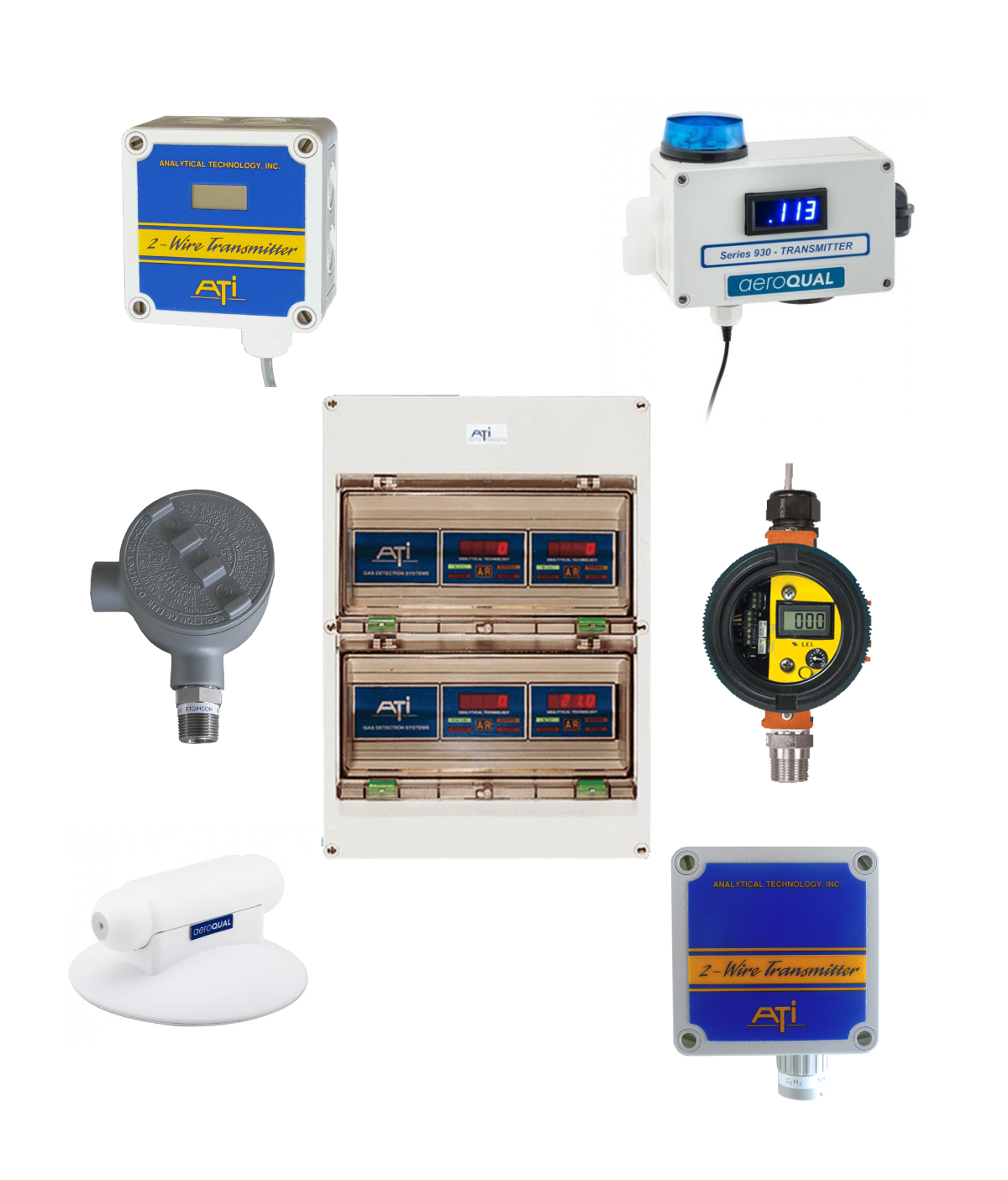 Features of the B14:
-LED Display: Gas concentrations are shown on the display in PPM, PPB, percent, or percent LEL. This range is determined by you at the time of ordering.
-Three Alarm Setpoints: Each module provides separate caution, warning, and alarm setpoints with LED bar indicators of each alarm point. LED flash on initial alarm condition, and change to steady when the alarm is indicated.
-Three Relay Outputs: Modules contain individual alarm relays for each alarm setpoint. However, each relay can be assigned to any setpoint to allow multiple alarm functions at a single alarm point. Relays are configurable for either standard or fail-safe operation and for either latching or non-latching operation.
-Separate Trouble Alarm: A fourth LED alarm bar and relay are provided to indicate trouble conditions. The trouble alarm and relay will activate on loss of input singal or if the 4-20mA input drops below a specific value.
-Remote reset Input: Isolate input contacts are provided to allow an unpowered switch input for acknowledgment of alarm conditions from a remote location or via telemetry equipment.
-Internal Transmitter Power: Modules provide a 24 VDC power supply to operate either 2 or 3-wire transmitters.
-Signal Retransmissions: A 4-20mA output is provided from each module, optically isolated from the input signal to avoid ground fault problems.
-DC Powered: B14 modules are powered from a 12 VDC power supply available as an option. Up to 3 modules can be powered from one power supply (or 2 if battery backup is used). Customer provided 12-28 VDC supplies may also be used.
B14 How to Order - Please Contact Us to order, as these units are very customizable!
Alarm Measurement Range - We will need you to provide the gases and range in which you want displayed. Each module is custom set, so you can have a variety of gases and ranges.
Enclosure - The B14 comes in a variety of size enclosures based on the number of receivers and power supplies that you need. The enclosure is a NEMA 4X material and uses standard 35mm DIN rail for mounting modules in the enclosure.
-Single Module - Houses only a single receiver module for use in DC power application where the use provides power to the system.
-Two Module - Houses two receivers (user supplies DC power) OR one receiver and one power supply (AC power).
-Three Module - Houses three receivers (user supplies DC power) OR two receivers and one power supply (AC power).
-Six Module - Houses six receivers (user supplies DC power) OR 4 receivers and two power supplies (AC power).
-Nine Module - Houses nine receivers (user supplies DC power) OR eight receivers and one 65 Watt Power supply.
Extra/Accessories that take up a spot on the Enclosure:
- Receiver Alarm Module- Power Supply (00-0055) - can power 3 alarm modules
- Power Supply (28-0004) - can be used for up to 12 alarm modules


Additional Options:
- Battery Backup Unit - housed in it's own NEMA 4X wall mount enclosure
- Audible Horn - Internal - 12 VDC
- Audible Horn - External - 120 VAC
- Audible Horn - External - 220 VAC
- Strobe (red) - 12 VDC
- Strobe (amber) - 12 VDC
- Strobe (red) - 120 VAC
- Strobe (amber) - 120 VAC
- Strobe (red) - 230 VAC
B14 Specifications:

Concentration Display

4 digit LCD, Programmable Range


Input

2, 3, or 4-wire 4-20mA Transmitter

Output

Isolate 4-20mA, 1000 ohms max load

Power

12-28 VDC, 400 mA max

Concentration Alarms


Three adjustable concentration alarms. Setpoints adjustable from 5-100% of span.

Alarm Indicators

LED bars for Caution, Warning & Alarm

Indicator Function

Caution and Warning indicator non-latching. Alarm indicator latching.

Alarm Relays

3 assignable relays, 7A, 120 VAC (4 A, 220 VAC) resistive. Alarms assignable to any one of 3 programmable setpoints.

Relays Function


Configurable for Normal/Fail-safe, Latching/Non-latching, 2/second/10 second delay, or external horn function.

Trouble Function

Front panel LED bar indicator and SPDT, 7 A relay. Factory set for fail-safe operation.



Alarm & Relay Reset


Activated from front panel switch or through remote reset swit

ch.



External Reset


Input terminals provided for unpowered contact input.

Gas Indicator

LED bar on front panel with gas symbol overlay.

Electrical Connections


Quick disconnect pluggable terminal blocks.




Module Enclosure

Noryl

Module Mounting

Mounts to 35 x 7.5 mm DIN rail.

Operating Temp.

-40C to +55C


Humidity

0-99% RH, non-condensing.
Downloads:
Links to more info:
ATI Specific Calibration Information
More Information
Manufacturer
ATI
Call For Price
No
Gas
Acid Gases, Acteylene (C2H2), Alcohol, Ammonia (NH3), Arsine (AsH3), Bromine (Br2), Carbon Dioxide (CO2), Carbon Monoxide (CO), Chlorine (Cl2), Chlorine Dioxide (ClO2), Diborane (B2H6), Dimethylamine, Ethylene Oxide (ETO), Fluorine (F2), Formaldehyde (CH2O), Germane (GeH4), Hydrocarbon (HC), Hydrogen (H2), Hydrogen Chloride (HCl), Hydrogen Cyanide (HCN), Hydrogen Fluoride (HF), Hydrogen Peroxide (H2O2), Hydrogen Selenide (H2Se), Hydrogen Sulfide (H2S), Iodine (I2), Nitric Oxide (NO), Nitrogen Dioxide (NO2), Oxygen (O2), Ozone (O3), Phosgene (COCl2), Phosphine (PH3), Silane (SiH4), Sulfur Dioxide (SO2)
4-20 mA Output
Yes
Sensor
Ozone 0-20 ppm
Field Replaceable Sensor
No
Auto Test Generator
None
Min, Max, Avg
No
Voltage Output
None
Power Requirements
12-30 VDC
Datalogging
No
Rechargeable
No
Field Replaceable Battery
No
Warranty
1 Year
Audible Alarm
No
Calibration
Sensor Dependent
Sensor Life
Sensor Dependent
Range
Sensor Dependent
Unit Features

-Ozone Detection System

-Provides Relays and 4-20 mA Outputs

-Accept Input from any 4-20 Device

-Provides Control Abilities

Sensor Range

Sensor Dependent

Resolution
Range Dependent
Integrated Relays
No
Sensor Range

Sensor Dependent
We found other products you might like!