The CL2 Honeywell BW™ Solo is a portable chlorine detector with a measuring range of 0-50 ppm that fits in the palm of your hand. This new, smaller design allows gas to diffuse into it more quickly, giving it a faster response time than previous models. The design also features easy access to internal components through a removable front panel making maintenance and sensor replacement quick and hassle-free. The sensor has a 2-year life expectancy and comes with a one-year warranty. The BW Solo's rugged, durable exterior that can withstand extreme temperatures and other environmental conditions making ideal for long term use in harsh environments.
BW Solo Info
-Gas Type: Chlorine (CL2)
-Range: 0-50 ppm
-Resolution: 0.1 ppm
-Operating Temperature: -4 to 104 F (-20 to 40 C)
-Low Setpoint: 0.5 ppm
-High Setpoint: 1.0 ppm
-Size: 2.74"H x 2.63"W x 1.42"D
-Weight: 3.56 oz
-Battery: ER14355 2/3AA lithium thionyl chloride
-Display: LCD (128x64) with back light
-Display Readout: Real-time reading
-Control: 1 button
-Sampling: Diffusion
-Alarms: Multi-tone audible (95 dB @ 30 cm/12"), vibration, visible, and on-screen indication of alarm condition
-Datalogging: Continuous datalogging (6 months @ 5 second intervals), user configurable intervals (1 to 300 seconds)
-Humidity: 5-95% RH (non-condensing)
-Calibration: Calibrate every 6 months and you should replace your BW Solo after sensor failure (Sensor Life: approx. 2 years)
Features
-easy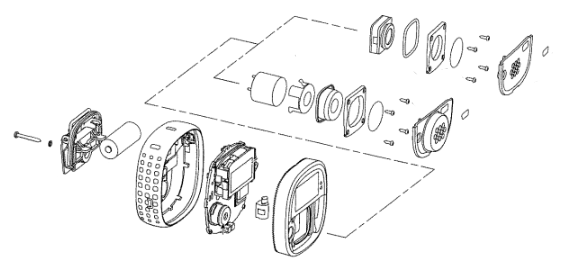 access to internal components
-faster sensor response time
-compact design
-1-year warranty
-real-time monitoring
-dock-less event capturing
-single-button operation
-stainless steel alligator clip
-concussion-proof housing
-calibration/test cap and hose
-instructions
Sensors
The 1-Series sensor used by the BW Solo is a single-gas detector developed by City Technology, a Honeywell company with 40 years of experience in manufacturing gas sensors. Sturdy and reliable, these sensors are capable of consistent operation in harsh environments and last up to 2 years, depending on exposure. The compact square design of the 1-Series sensor allows gas to diffuse into it more quickly, getting a faster response and accurate readings.
Operation
The Honeywell BW Solo uses a one-button operation system making it easy to use even while wearing gloves. Using the device itself or the Honeywell Safety Device Configurator software, you can customize set points, latching alarms and other parameters as well as have access to measurements such as short-term exposure limit, time weighted average, and the highest concentration of gas detected in the past 24 hours even if an alarm was not triggered.
The Honeywell BW Solo's alarms include red LED illumination to guarantee high visibility as well as audible and vibrating alarms that are noticeable even in noisy environments.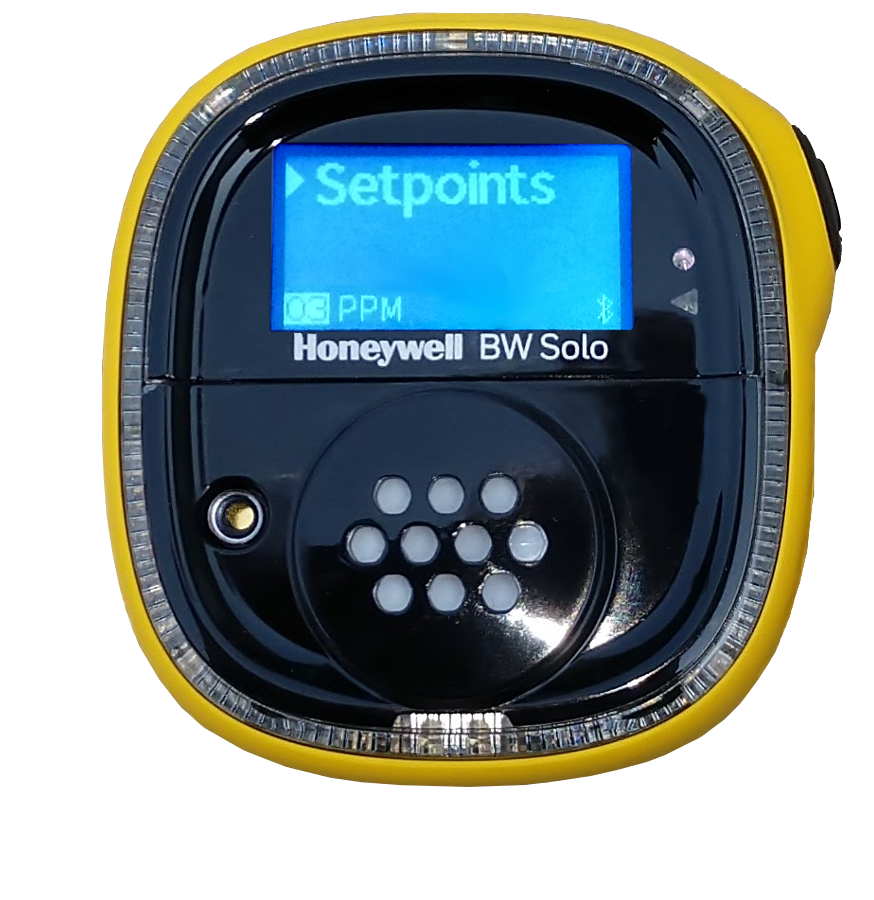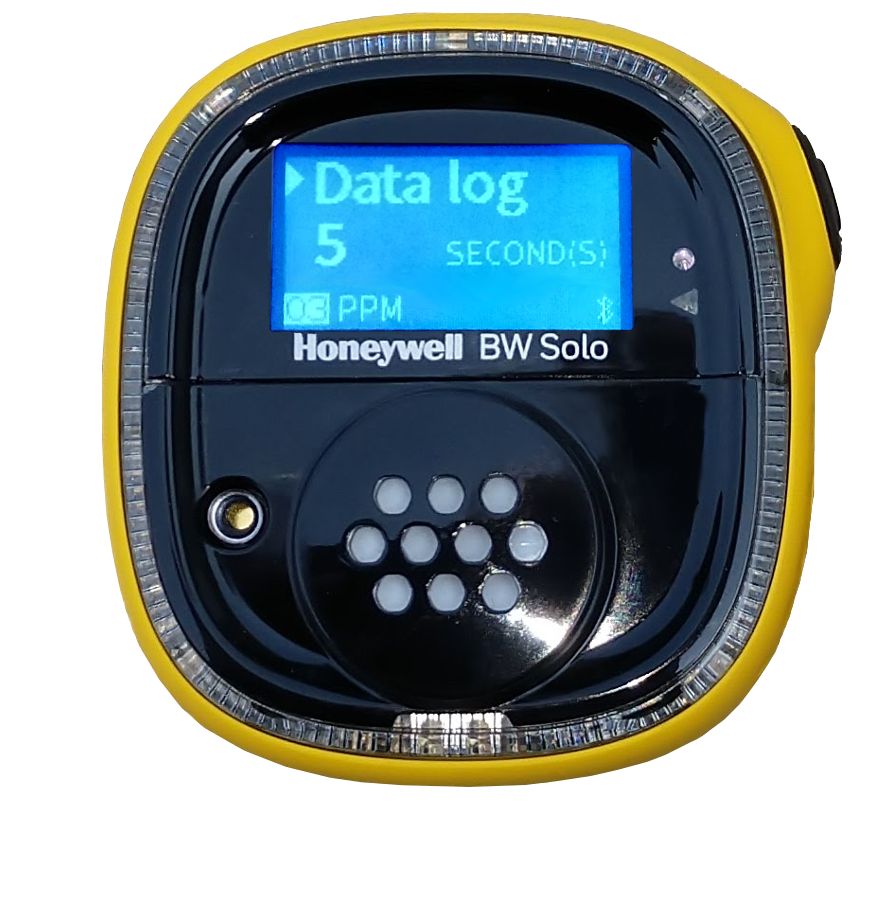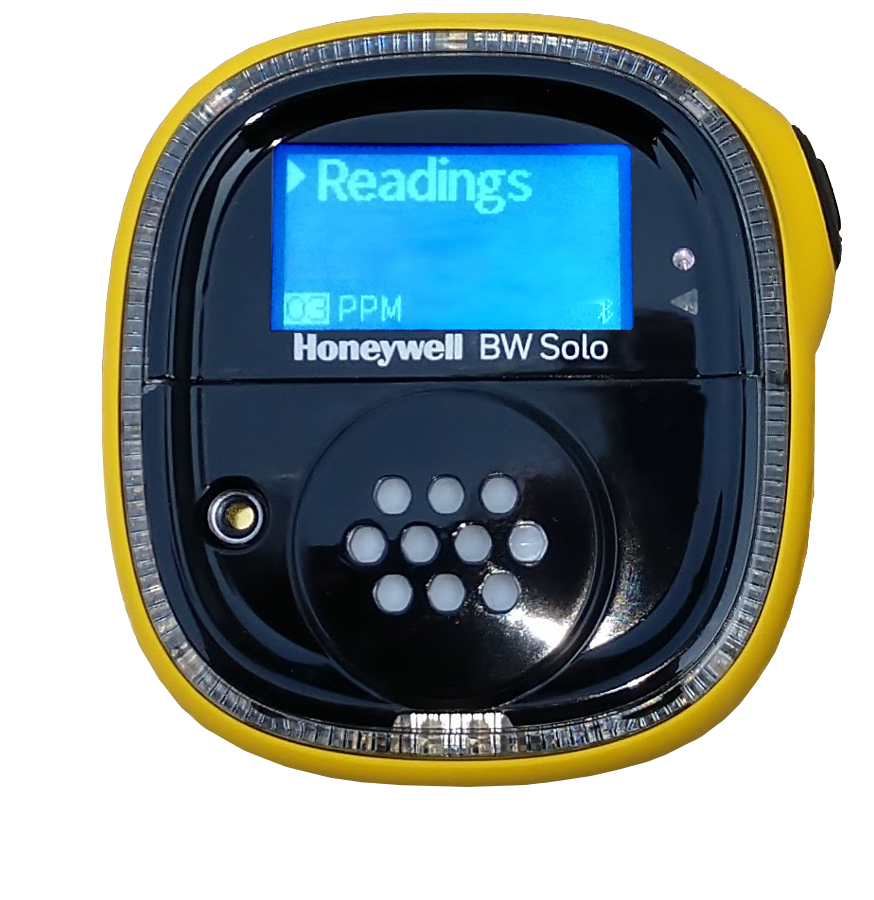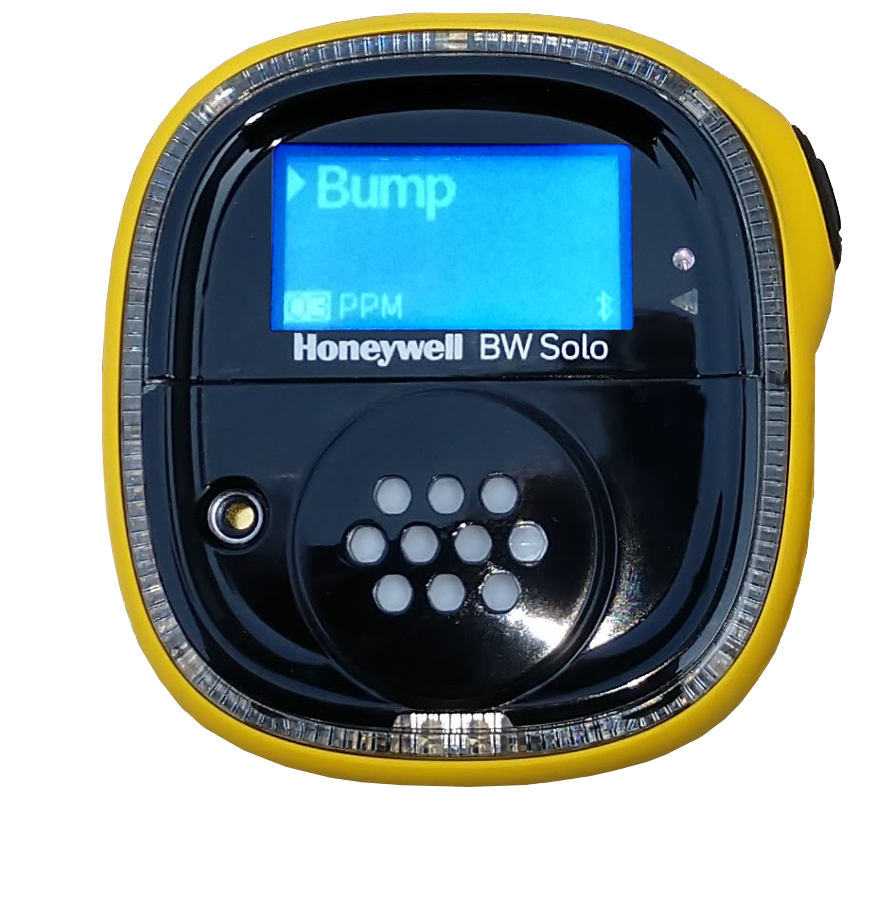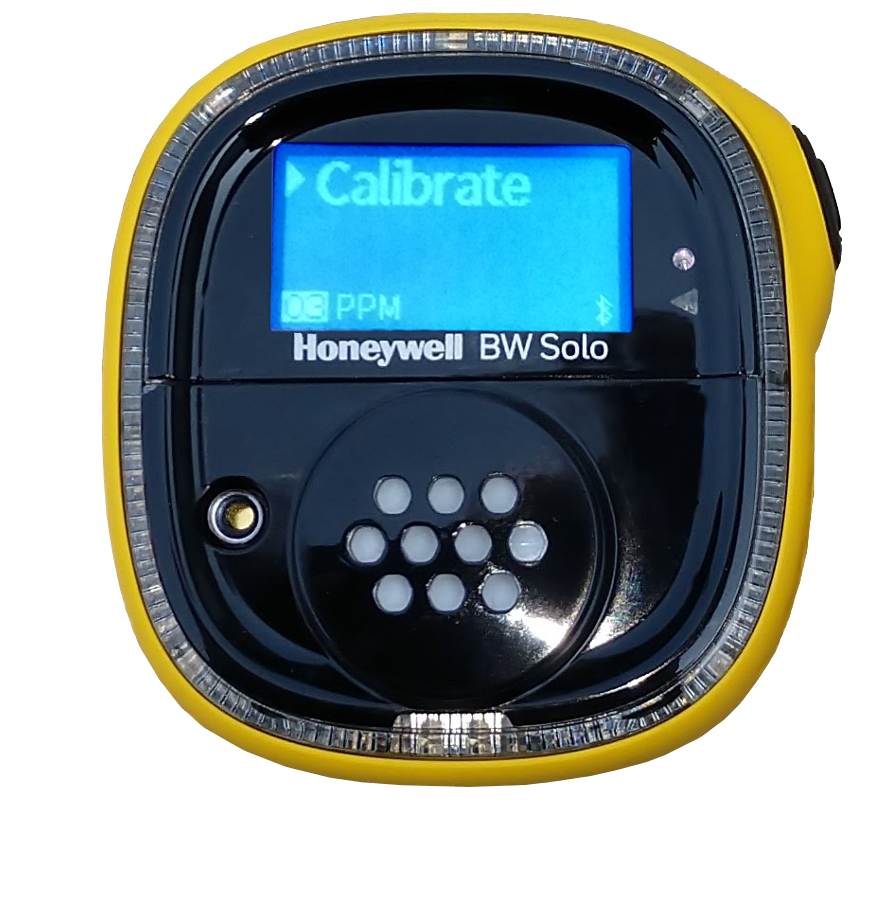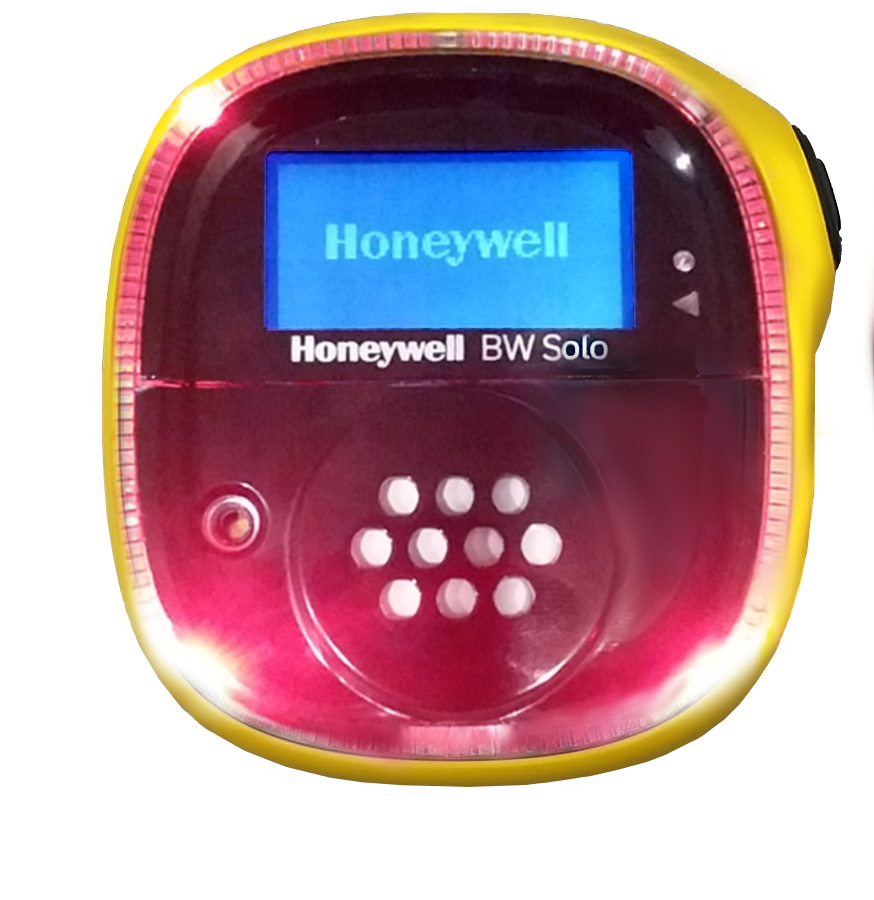 Maintenance
The BW Solo is designed to simplify filter replacement by coming equipped with a detachable panel on the front of the device that can be removed by hand. From there, the sensor itself can be replaced as well without exposing the circuit board.
Languages
Real-time gas readings can be viewed in the following languages:
-English
-Spanish
-French
-Korean
-Japanese
-Russian
-Others
Data Centralization
Optimize safety and productivity by using your Honeywell BW Solo with IntelliDoX docking stations and the Honeywell Safety Suite Device Configurator software.
Intelli
DoX
The IntelliDoX system automatically transfers test results and performs actions according to your commands as soon as you've placed the detector in the dock. This allows you to immediately perform a bump test, change set points, enable calibration or bump reminders, update firmware, and more. It also allows you to transfer alarms, peak readings and other data to your computer via Ethernet or USB. The IntelliDoX station is able to work as a single dock or in a group of up to five. Each dock is equipped with an LCD screen, keypad and pump and is able to share power and calibration gas with other docks.
Device Configurator
This Windows-based device configuration software allows you to to export data, configure alarm set points, deploy firmware updates, and more. For even more options, you can subscribe to the cloud-based Honeywell SafetySuite Device Manager which gives you access to a variety of resources such as: text and email notifications for alarms, dashboards across multiple sites, versatile reporting, and one-stop storage.
Mobile Setup
The Honeywell BW Solo can also be paired with a smartphone where you can use the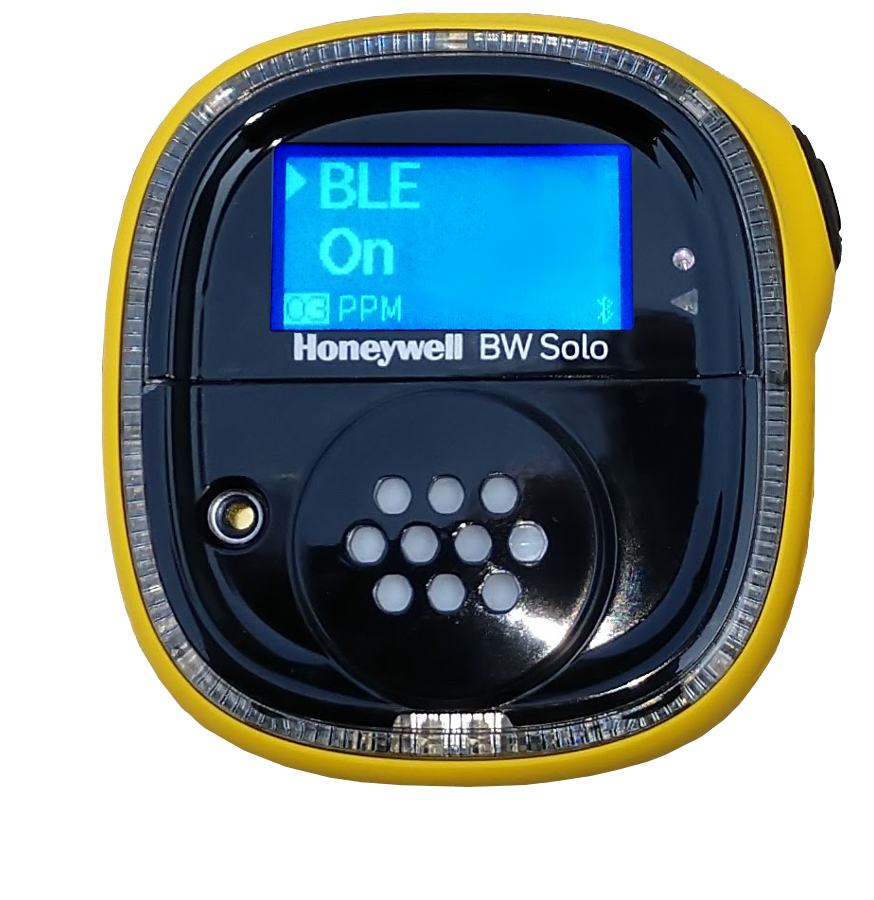 Device Configurator app to set up a detector, choose alarm set points, and more from up to 6 meters away using Bluetooth Low Energy. The app can also be used to see details about readings and email a certificate to stakeholders as well as updated firmware.
BW Solo Wireless
Using the wireless version of the Honeywell BW Solo, you can share your detector's gas information with the desktop software without the use of a docking station. This lowers the cost of operation and gives you allows for simple and effective crew management.
Additional Safety Features
The Honeywell Safety Communicator mobile application, you have remote access to worker safety and location information from any device with an Internet connection. Detectors paired with your smartphone will send gas readings and other vital data in real time allowing instant access to potential safety concerns and other information.
Other BW Solo Sensors
| Gas Type | Product Name | Measuring Range |
| --- | --- | --- |
| Ammonia (NH3) | BW NH3 | 0-100ppm |
| Ammonia (NH3) extended range | BW NH3 extended | 0-400 ppm |
| Carbon monoxide | BW CO | 0-2000ppm |
| Carbon monoxide (CO) H2 resistant | BW CO H2 resistant | 0-2000ppm |
| Chlorine (Cl2) | BW Cl2 | 0-50 ppm |
| Chlorine dioxide (ClO2) | BW ClO2 | 0-1ppm |
| Ethylene Oxide (ETO)(C2H4) | BWC2H4 | 0-100 ppm |
| Hydrogen H2 | BW H2 | 0-1000 ppm |
| Hydrogen cyanide (HCN) | BW HCN | 0-100 ppm |
| Hydrogen sulfide (H2S) | BW H2S | 0-200 ppm |
| Hydrogen sulfide (H2S) extended range | BW H2S extended | 0-500 ppm |
| Nitric oxide (NO) | BW NO | 0-250 ppm |
| Nitric dioxide (NO2) | BW NO2 | 0-100 ppm |
| Oxygen (O2) | BW O2 | 0-30%v/v |
| Oxone (O3) | BW O3 | 0-1 ppm |
| Phosphine (PH3) | BW PH3 | 0-5 ppm |
| Sulfur dioxide (SO2) | BW SO2 | 0-100ppm |
Downloads:
More Information

| | |
| --- | --- |
| Manufacturer | Honeywell / BWT |
| Call For Price | No |
| Gas | Chlorine (Cl2) |
| Range | 0-50 ppm |
| Sensor Type | GSE (Gas Sensitive Electrochemical) |
| Operational Temperature Range | -4 to 104 F (-20 to 40 C) |
| Weight | 3.6 to 4.1 oz / 103 to 116 g (depending on installed sensor) |
| Dimensions | 2.7 x 2.6 x 1.4 in / 7.0 x 6.7 x 3.6 x cm |
| Datalogging | No |
| Datalogging Note | Datalogging requires accessory |
| Field Replaceable Sensor | Yes |
| Field Replaceable Battery | Yes |
| Warranty | 1 Year |
We found other products you might like!