The Aeroqual Series 300 is an entry-level portable device for gas detection. Rent for a week or month for trial applications or to determine your current gas levels.
Sensors available are: Ozone, Nitrogen Dioxide, VOC, Particulate Matter, and Carbon Monoxide.
*If multiple quantities are added to cart – this is additional months or weeks. If multiple units are needed, please make this comment in the checkout process.
The Aeroqual Series 300 Monitor with Sensor Head is a portable gas monitor that is can be configured to measure a variety of different gases. This device can be rented by the week or month for customers who are unsure of what their current toxic gas level is and needs to be determined, or for short term applications. The Aeroqual Series 300 features an easy to read, digital display capable of Min, Max, Avg readings, field-replaceable sensor heads and a rechargeable battery.
Currently available sensors are:
-Ozone 0-0.5 ppm (OZL)

-Nitrogen Dioxide 0-1 ppm (ENW)
-VOC 0-500 ppm (VP)
-Particulate Matter PM2.5/10 (PM)
-Carbon Monoxide 0-1000 ppm (CO)
There are additional sensors available for the S-300, what we have available for stock will change, please call if you have a specific gas requirement to see if we can meet your needs.
Click here if you are interested in buying a new Series 300
Click here if you are interested in renting the Series 500 with datalogging capabilities
How the Rental Works:
-You place the order via website or phone with credit card for weekly or monthly rental
-We ship device to your location using your preferred shipping carier
-Rental period of 7 or 30 days begins when device arrives to your location
-Device is in use for 7 or 30 days (depending on rental period selected)

-Rental period ends when you ship device back using your prefferred carrier
-When we recieve device we check over for proper operation, calibrate if necessary and get it ready for the next customer!
Benefits:
-Fits comfortable in the hand
-One monitor to measure many toxic gasses
-Compatible with 30 different sensors
-Long life lithium battery
-Large display gives min, max and average readings on the display
Applications:
-Source and leak detection
-Checking indoor air pollution "hot spots"
-Health and safety monitoring, personal exposure monitoring
-Indoor air quality
What's Included:
-Monitor base
-LCD digital display
-Lithium battery and charger
-Configurable Min, Max, Average readings
-Zero Calibration capability
Interchangeable Sensors:
Sensor heads for the Series-300 are interchangeable, allowing you to detect many gasses with one device. Using the optional carry cases you can keep your Series-300, optional accessories, and spare sensor heads all in one safe, portable case.
Each sensor head will fit each handheld device. Simply pull the sensor out and put a different sensor in its place. The S-300 will recognize the sensor and display the proper range and gas on the screen.

Replacement (or additional) sensor heads are available for all of the gases listed above. You can find their details and pricing on our Replacement Sensors page!
Compare the Series 200, 300, 500 monitors:
| | | | |
| --- | --- | --- | --- |
| Compare the Aeroqual handheld devices | | | |
| Interchangeable sensor head | Yes | Yes | Yes |
| Digital LCD Display | Yes | Yes | Yes |
| Min, Max, Average readings on screen | Yes | Yes | Yes |
| Field Replaceable Battery | Yes | Yes | Yes |
| Remote Sensor Capability | Yes | Yes | Yes |
| Temp and HR Sensor optional | Yes | Yes | Yes |
| External Control Outputs | No | Yes | Yes |
| Audible Alarm | No | Yes | Yes |
| High and Low Alarms | No | Yes | Yes |
| 0-5 VDC Analog output | No | Yes | Yes |
| Zero Calibration capability | Yes | Yes | Yes |
| Span Calibration capability | No | Yes | Yes |
| Internal Data Logging Capability | No | No | Yes |
| PC connection cables and capability | No | No | Yes |
View a brochure with specifications on the Series-200, 300, and 500.
Sensor Specifications for Handheld Aeroqual Series 500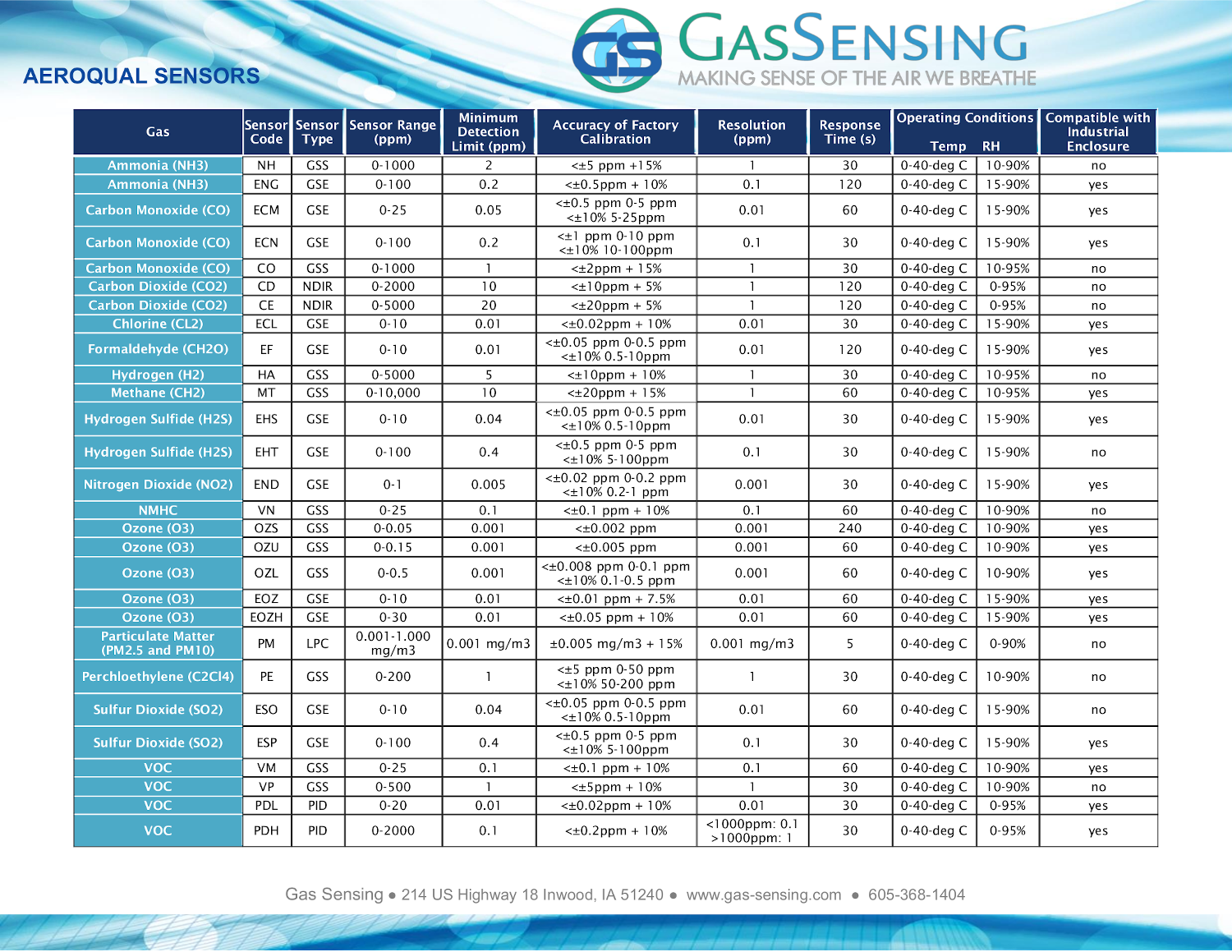 Click on image for full size image
Full list of technical information and specifications for all Aeroqual sensors
Downloads:
Portable Air Quality Monitor Information
Links to more info:
More Information
Manufacturer
Aeroqual
Call For Price
No
Gas
Carbon Monoxide (CO), Nitrogen Dioxide (NO2), Ozone (O3), Particulate Matter (PM), VOC
4-20 mA Output
No
Relays
1 Alarm Relay + 1 Control Relay
Field Replaceable Sensor
Yes
Min, Max, Avg
Yes
Voltage Output
None
Power Requirements
12V DC via supplied adapter
Datalogging
No
Rechargeable
Yes
Field Replaceable Battery
Yes
Warranty
1 Year
Audible Alarm
Yes
Calibration
Annually
Sensor Life
2 Years
Range
Gas Dependent
Unit Features

- Mutiple Gas Detection Sensors:

- Carbon Monoxide, Ozone, PM, VOC, Nitrogen Dioxide

- Audible Alarm - High and Low

- Reads Min, Max, Avg

- Battery powered with charging cord

- Weekly, Monthly Rental Period Avalible

Sensor Range

Gas Dependent

Resolution
Gas Dependent
Sensor Range

Gas Dependent
We found other products you might like!