SM-5 Ozone Sensor 0.1 ppm
SM-5 replacement ozone sensor module for the OEM-1, and OEM-2 Ozone Sensor Boards. Available in a range of 0.1. Pre-calibrated and ready for use upon delivery. Just plug into your sensor and dispose of the old sensor.
The SM-5 sensor module is the pre-calibrated replacement sensor used for the OEM-1, and OEM-2 Ozone Meters.
These sensors are not designed to be calibrated or serviced after getting put in use. Therefore the sensor is simply replaced with new, and the old sensor is disposed of. No return policy is required for the old sensor. The cost of the replacement sensor is only $99. This low cost is lower than any factory calibration offered by any vendor we are aware of!
The spare sensor module is now only available in one range of 0.1 (part numbers, SM-0.1) The OEM-1 can be used interchangeably with any of previous used sensor ranges. However, the OEM-2 and OS-3 are built and calibrated for one sensor range, ensure you purchase the right sensor range for your device.
OEM-1 Ozone Sensor Replacement:
Sensor replacement on OEM-1 is simply plug-n-play. Remove the old SM-5 and replace with new.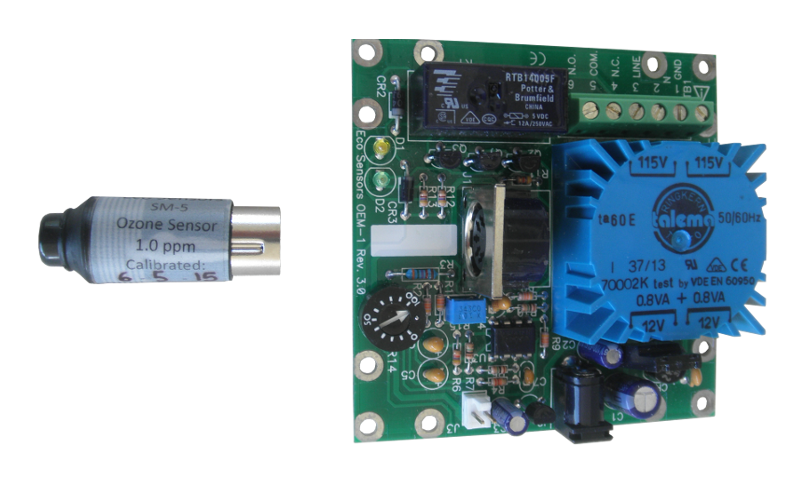 This sensor is also the replacement sensor for the OS-3 ozone monitor in the OS-4, OS-6 and A-22 Ozone Monitors. Production of the OS-3 has been discontinued, however we do supply parts and service for these meters as long as it is functional and in working condition.

Links:
EcoSensors Calibration information
General Calibration Information
More Information

| | |
| --- | --- |
| Manufacturer | Eco Sensors |
| Call For Price | No |
| Gas | Ozone (O3) |
| Resolution | 0.01 ppm |
| Response Time | 1 second |
| Sensor type | Heated Metal Oxide (HMOS) |
| Sampling Method | Fan |
| Operational Temperature Range | 35 - 100 deg F |
| Operational RH Range | 0 - 85% RH |
| Field Replaceable Battery | No |
| Warranty | 1 Year |
| Range | 0-0.1 ppm |
We found other products you might like!