OEM-3 Ozone Controller is great for integrated solutions or use within your ozone generator. A simple and effective method to control ozone levels, or shut down equipment in the event of an ozone leak.
The OEM-3 is a 12/24 VDC powered board that offers a 4-20 mA output.
For reference, the OEM-1 is a 120 VAC powered device that offers a 0-1 VDC output.
For reference the OEM-2 is a 12/24 VDC powered device that offers a 4-20 mA output signal.

Buy 5 for

$410.00

each and save

2

%
Buy 10 for

$395.00

each and save

6

%
Quantity Pricing:
1-4 = $420 each
5-9 = $410 each
10+ = $395 each
The model OEM-3 is a system to control ozone generators and alarms based on an adjustable ozone concentration set point. It is designed to work with plug-in sensor modules for 0-0.1 ppm, 0-1.0 ppm, and 0-10.0 ppm. These are specified when ordering by putting the ppm range after the model number. For example, a 0.1 ppm OEM-3 board system would be OEM-3-.1 and the replacement sensor module for it would be OEM-O3-.1. The sensors modules can also be located at a distance from the OEM-3 boards by 6ft or 25ft (2 or 8 meter) cables. These are readily available DIN M/F 5 pin extension cables.

One component of the OEM-3 system is the base board which incorporates the power supply, final signal processing, set-point controls, and the output relay. The other component is the sensor mounted with its associated electronics in a cylindrical DIN plug. This is pre-calibrated in our lab so that the sensor module and main board module together work as a calibrated system. If the sensor module is damaged, it is simply replaced by another precalibrated module.
When it comes to calibrating your OEM-3 Ozone Controller, you should replace your sensor annually.
OEM-3 Ozone Sensor Replacement:
Sensor replacement on OEM-3 is simply plug-n-play. Remove the old SM-3 and replace with new.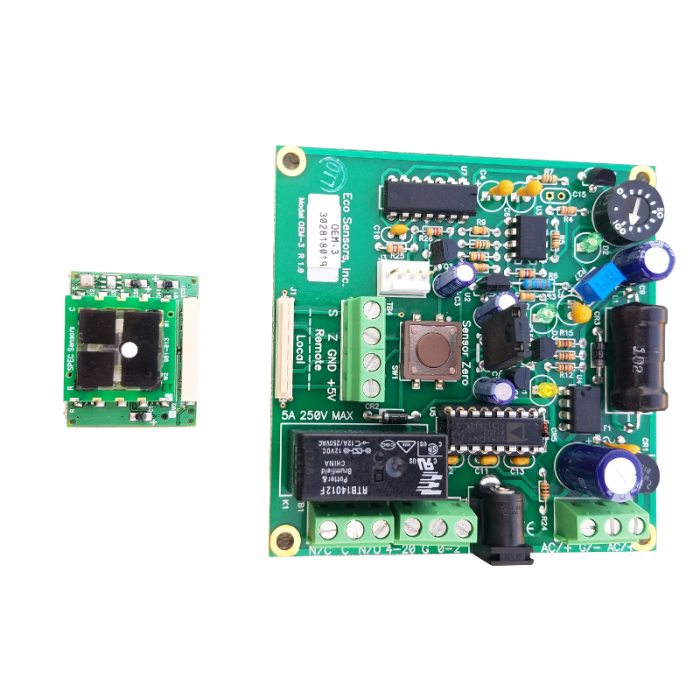 Application Notes/Diagram: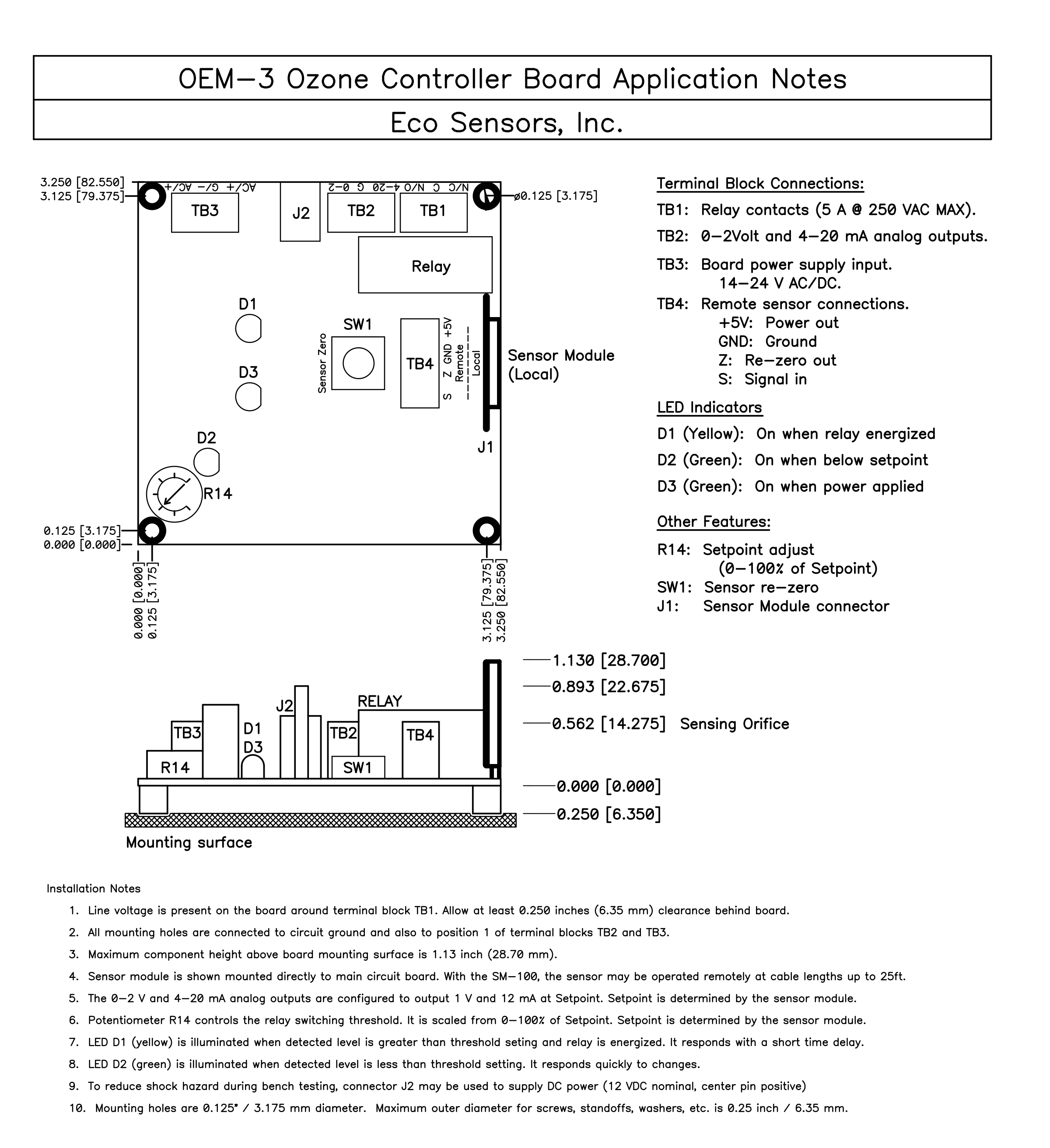 Downloads:
OEM-3/SM50 Wiring Terminals Cross-Reference
Links:
EcoSensors Calibration information
General Calibration Information
More Information
Manufacturer
Eco Sensors
Call For Price
No
Gas
Ozone (O3)
Resolution
0.01 ppm
Integrated Relays
Yes
Response Time
8 seconds
Sensor type
Electrochemical
Sampling Method
Diffusion
Alarms
NO/NC relay for control purposes
Operational Temperature Range
35 - 100 deg F
Operational RH Range
0 - 85% RH
Power Requirements
12 VDC
Size
3.25-in wide x 3.25" long x 0.875" tall
Field Replaceable Battery
No
Warranty
1 Year
Audible Alarm
No
Calibration
Replace with Pre-Calibrated Sensor Annually
Sensor Life
1 Year
Range
0-0.1, 0-1.0 , or 0-10.0 ppm
Unit Features

-Field Replaceable Sensor

-User Settable Relay

-4-20 mA Output

Sensor Range

0-0.1 ppm

0-1 ppm

0-10 ppm

Sensor Range

0-0.1 ppm (O3)

0-1 ppm (O3)

0-10 ppm (O3)
We found other products you might like!